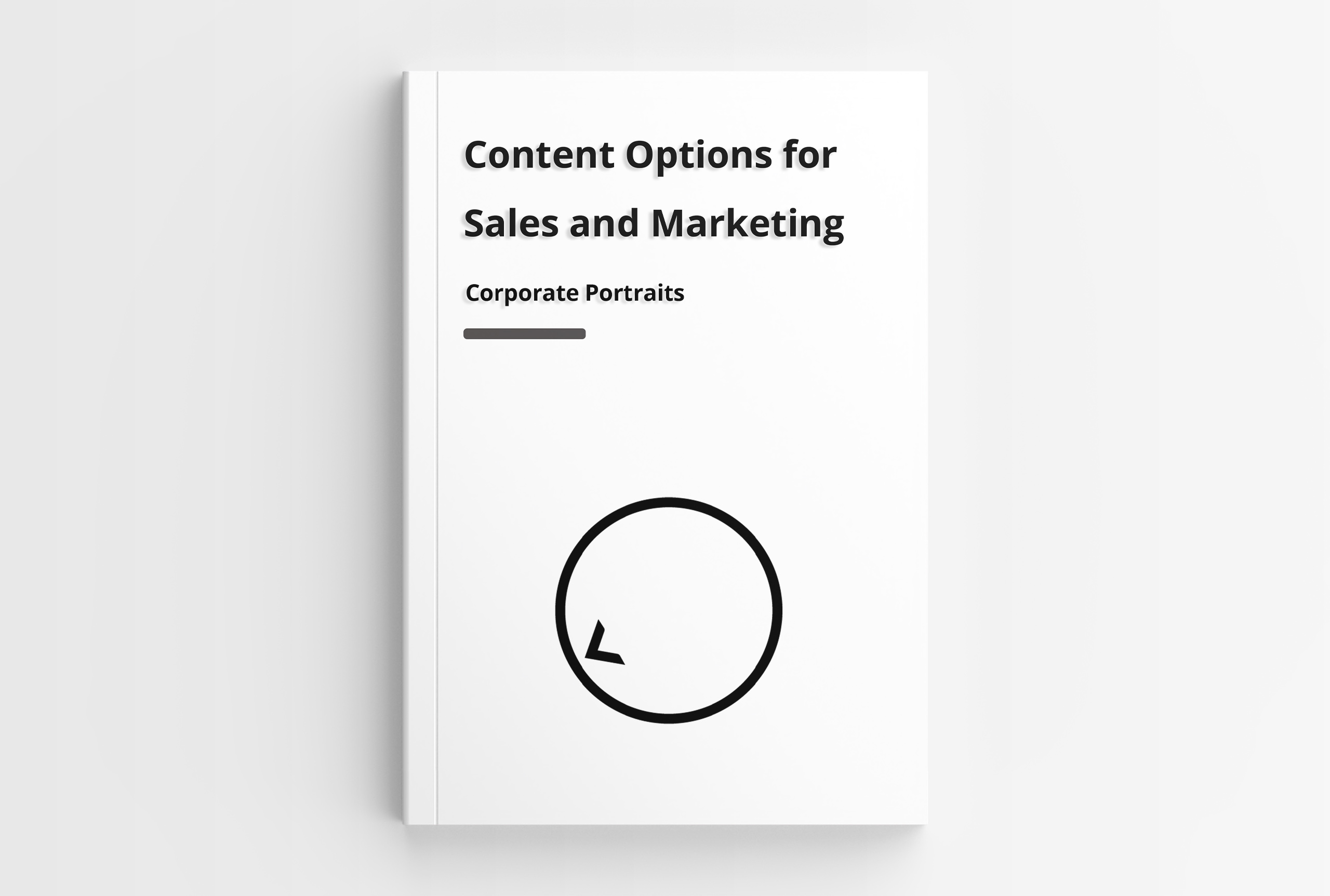 Content Options: Corporate Portraits
Portrait photography has increased in popularity and experienced renowned growth since the 1800s, corporate portraits serve a very important function within the professional industries.
As a company, your main use for any sort of photography would be to be able to market your company, its vision and its goals. With corporate portraits, you can do so by providing potential investors and/or clients with a clear image of your employees, different departments and working environments.   
Corporate Portraits Tips
Corporate portraits typically make use of clean background be it an office environment or a neutral colour backdrop.
There are a Few Different Types of Company Portraits:
Corporate Headshots
Executive Portraits
Team Portraits
Unit / Department Portraits
In Action / On-site Portraits
Why do we use Corporate Portraits:
Corporate portraits have a few very distinct and important applications.
Corporate Portraits Provide your Company with Credibility:
When people are online looking for a company to fulfil a certain purpose, it can feel cold and uninviting when websites and pages lack any sort of imagery or only make use of obvious stock imagery. You need to form a connection with your clients and investors and with the use of corporate portraits you are able to give the company a face and identity through your staff and different departments.
Corporate Portraits Builds Employer Branding:
Having a portrayal of your employees, departments and executives can help to improve your employer branding. Good employer branding aids in the recruitment process and ensures higher quality individuals apply for positions within your company.
Corporate Portraits Aid in Brand Representation:
Your company's corporate portraits are first and foremost a representation of how your company operates. The higher the quality of your portraits the better the perception potential clients and investors will have of your company.
How Corporate Portraits can be used:
There are a few use cases tied to the different kinds of corporate portraits, but they are widely used for the following:
Websites
Company profiles
LinkedIn profiles
Company reports
Business cards
Email signatures
Press releases
Brand CI documents
These are but a few of the most widely used use cases, these company portraits also provide a feeling of unity between your employees, especially on platforms such as LinkedIn.
The Production Value of Corporate Portraits:
The quality and production value of the content that your company is aiming to develop can change considerably depending on the proposed budget.
Most content developers/professional photographers will normally provide different packages that aim to accommodate all budgets.
Below I'll list low-end and high-end options and also provide you with an explanation of each.
Low-End Production:
Low-end corporate portrait projects would be applicable for smaller companies with lower staff numbers and smaller budgets.
For example:
You need corporate headshots for ten of your employees and you have a very limited budget.
Your supplier could look at doing natural light portraits.
Although these portraits have the possibility to look great they may not be as unified as photos taken in a studio set-up because of the natural light used.
The lighting won't be the same in the photos.
High-End Production:
High-end corporate portrait projects would be more suitable for companies requiring these services at a larger scale with a set brand CI, and are looking for content that corresponds with one another.
For Example:
Employee headshots would be done either on location with a mobile studio setup or at your respective agency's studio. The lighting will be constant throughout all of the images due to it being set up for the specific shoot.
How to Find a Suitable Corporate Portrait Photographer:
Finding a supplier to suit your company's specific needs may not be as straightforward as one would think.
There are a few things to take into consideration and to check up on before selecting your preferred photographer.
Do They Have Experience In Corporate Portrait Photography?
It is important to look through your preferred supplier's portfolio. Ensure that they have completed work similar to what you have in mind. Get an idea of their quality of work and if they are able to produce content that you would be happy with.
Do They Have The Equipment Needed?
Once you feel happy with the supplier's portfolio it is important to inquire if they do have the relevant photographic gear needed to produce the relevant content.
This could include:
2-3 Photographic lights
Backdrop ( Ask which colours are available)
Backdrop stands
Your supplier may need to rent some of these items and it is important to confirm that they have access to these items on the day of your shoot.
Photographer Location:
Location is an important factor in more than one way.
Firstly you need to ensure that your preferred photographer provides services within your company's area or if your employees are able to travel to the photographer's studio.
Furthermore, it is important to decide whether the photographer will be conducting the shoot at your offices or if you will be making use of a photographic studio at an off-site location.
Logistically it would make more sense to have the photographer set up a mobile studio at your location. Enquire about this.
Supplier Evaluation Checklist:
The best way to ensure that you are making the correct decision with regard to your preferred supplier is to set up a checklist with the above parameters to ensure that they comply with all of the parameters that you have set up for your project.
Your Role and Responsibilities:
There are a few responsibilities that fall on you to ensure that the shoot day runs smoothly and the content is as good as possible.
Ensure that all of your employees are fully briefed on how the photoshoot will work, how they need to be dressed and at what time they need to report for their session.
This ensures that all of the headshots are taken in a timely fashion with no need for any additional time to be allocated.
It is important to decide beforehand where the photos will be taken, be it in a boardroom or in a dormant office.
Check with your preferred supplier on what their space requirements are and if they require power outputs.
Thereafter carefully pick your designated area and prep it for the photographer's use.
This could include:
Removing additional furniture
Ensuring the environment is clean and easy to navigate
Ensure that there are sufficient power outlets for your photographer's use
It might prove useful to create and distribute a shooting schedule to both the photographer and your employees.
Ensure that your employees follow the schedule on the day.
This will ensure that the shoot runs smoothly.
Furthermore, it would be considered human to provide your preferred supplier with food and refreshments, especially if they are booked for a full day.
Supplier Role and Responsibilities:
The responsibility surrounding equipment is entirely that of your supplier.
If they need to collect or rent equipment such arrangements should be made before the time of your booked shoot day.
On the day the supplier should arrive at your premises 60 to 45 minutes before the shoot is scheduled to start, this will allow them ample time to set up their equipment, test their lighting and ensure that everything is ready for the proposed schedule.
Engaging With Your Supplier:
When contacting a supplier there are a few things that are of importance to discuss these may prevent any uncertainties between yourself and your supplier and ensure that all parties involved are satisfied with the proceedings and the outcome.
Drafting a contract that covers the needs and agreements of both parties is very important. This will ensure that you, your company and your preferred supplier are satisfied with the service provided as well as the end product.
Establishing your supplier's preferred payment terms will ensure that the service provided commences without any problems.
Discussing the turnaround time with your supplier, allows you to plan ahead and not have unrealistic expectations for when you will be receiving your end product.
Having a clear understanding of how the day of the project will be conducted allows you to plan ahead and communicate the proceedings to your staff.
In this meeting, you and your supplier will discuss the day's proceedings and ensure that they have everything they need to start
Next, you need to communicate the shooting schedule with your team to ensure that all of your team members understand what is expected of them.
Conclusion
Corporate portraits are a visual representation of your company and its staff and form a lasting impression with your clients.
Having them done right is very important, if you require corporate portraits for your company, get in contact with one of our team members today.
We are a leading video production company in Johannesburg and have one of the top learner management systems in South Africa. We specialise in Video Production, Photography, Graphic Design, eLearning Development, Web Design, Animation and Creative Consultation. | info@oliverkarstel.co.za | www.oliverkarstel.co.za | IG.com/oliverkarstel