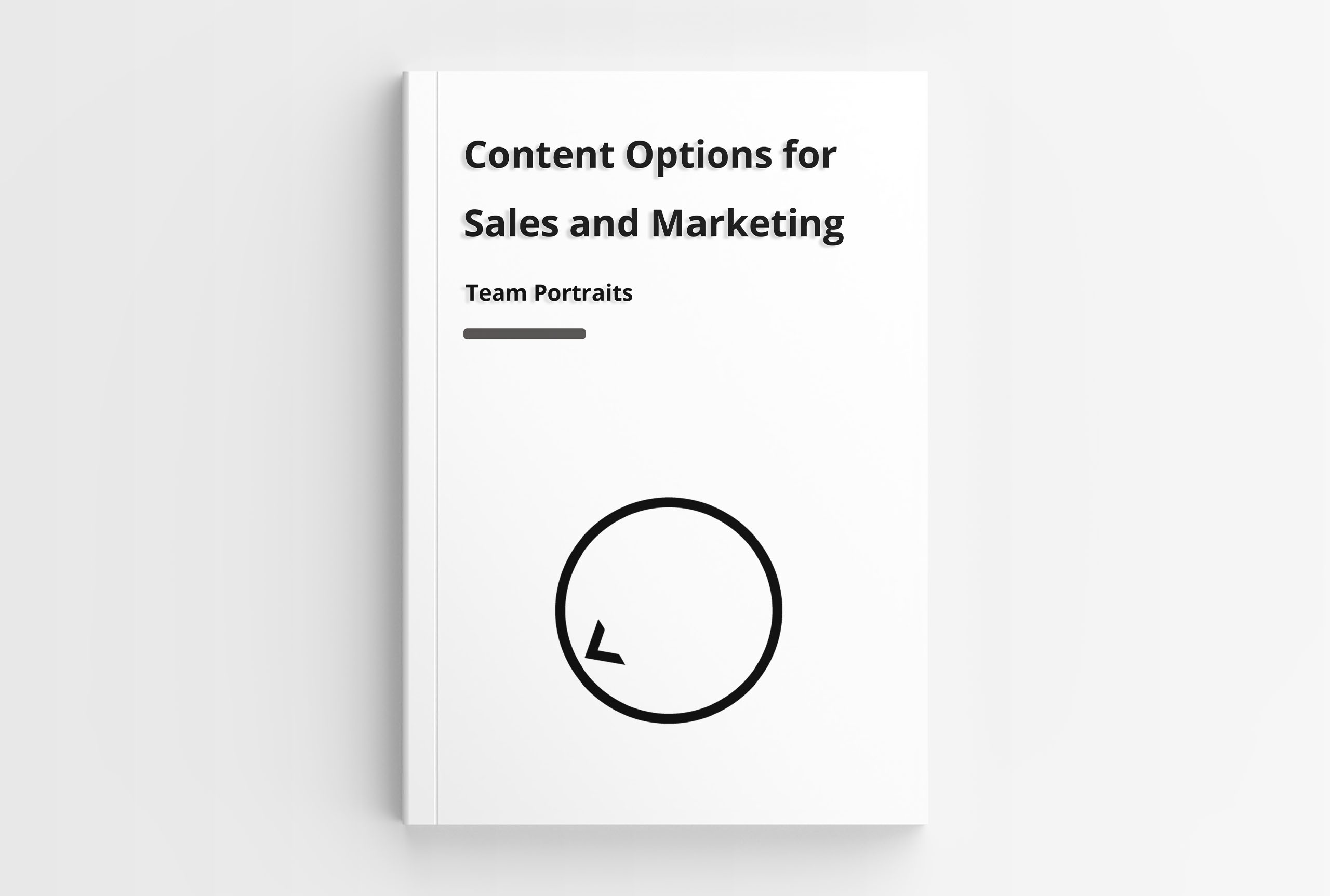 Content Options: Team Portraits
Team portraits are a type of corporate portrait photography that focuses on capturing your company's various teams.
These photographs are traditionally captured either from the waist up or full length.
These images can be captured in various locations such as an environment where this team would operate or in-studio with a clean backdrop for a more professional and refined look.
The main aim of these photographs is to effectively capture and present the teams that operate within your company to your clientele, investors, internal staff and other potentially interested parties.
Team portraits need to capture the dynamic of your team as well as portray the sort of experience a customer could expect to have when interacting with your team. This is done by capturing them as happy, presentable and professional this will lead to customers forming connections to these individuals by looking at their images alone.
Why and How do we use Team Portraits?
Team portraits and all other forms of corporate portraits for that matter are about first impressions. If you want to develop and nurture a bond of trust between yourself and your clients, these photos are integral.
Properly portraying your teams gives clients an insight into who they are working with.
It also shows that you care about your employees as well as shows how proud you are of them and their achievements.
Valuing your employees and "showing them off" is a great way to strike a chord with customers but it also makes your employees feel proud and respected.
These types of photography sessions also stand to be a wonderful bonding experience leading to higher morale and workplace synergy.
These photos would be used for company profiles, monthly reports and other documents such as sales pitches.
Your marketing team however would use these images as a social marketing tool on professional platforms such as LinkedIn. These images would also appear on your company website to market the various individuals and teams that form part of your company.
Producing Team Portraits
There are a few ways to approach team portraits, it all depends on what you have envisioned for the portraits and the size of the budget that has been allocated to the production of your team portraits.
With team portraits, the difference in price would mainly show in the editing and the use of lighting within the photographs.
Low Budget Team Portraits
The lower end of the budget spectrum of team portraits could deliver some dynamic end results.
The main difference would be the limitation on backgrounds and environments. Lower budget projects rarely make use of photographic lighting equipment, this could stand to limit the number of environments that you are able to photograph your teams in.
Lower budget projects would normally be captured in natural light and the production value involved would not make use of things such as props and outfits.
These team portraits would be straightforward images depicting your team together in an environment where they work together. These environments could include offices, production lines or even photos surrounding the completed products that your company manufactures, another popular option is having your company's residence as a backdrop.
The editing process included in the lower budget option may not be as in-depth as with the higher budget option with things like snake and blemishes remaining as captured. Make sure the surrounding area is clean and presentable as the supplier may opt to not remove undesirable spots etc.
High Budget Team Portraits
High budget team portraits allow both yourself and the supplier to approach the portrait session and concepts with a bit more creativity.
Higher budgets open up the option to opt for cleaner and more controlled studio portrait sessions as well as creative set building and the use of photographic lighting equipment ensuring that all of the team members playing subjects in the photograph are evenly and equally lit.
The equal distribution of lighting on subjects allows for a cleaner look and better contrast within the photo.
With creative set building, you are able to stage a scene for your employees to be photographed in, you could dramatise the image providing the teams with a more heroic look or even turn it into a conceptual art piece with your teams being the key subject.
Depending on your budget, you could create some very interesting portraits with an approach that stands out among the ones of your competitors.
Within the editing process, the extra budget allocated is really visible, with suppliers taking extra care to ensure that individuals' skin is free from blemishes and ensuring that the environment that they are in is also cleaned up. This also includes quality colour grading which can make a big difference in the tone communicated through the image.
The content produced will rely heavily on your supplier's ability, your concept and how well all of your work together.
How to Find a Suitable Supplier for your Project
Having a big or small budget has little relevance when you don't have the right supplier, choosing the right supplier for your company and your needs requires a few things:
Research
You shouldn't pick the first photographer you find on google, it's important to research at least three different suppliers. You need to make sure that your supplier has a proven track record and credible references.
Portfolio
Credible references are great but the proof will forever remain in the pudding.
Going through a photographer's portfolio will tell you two things:
1- Can they take striking photos?
2- Does their style align with your vision?
If the answer is no to either of these questions, chances are you will not be happy with the quality of content produced.
Interview
Setting up an interview with your photographer could yield great results.
It is important to discuss your vision and concepts with them beforehand to see if would be a good fit. Furthermore, we would recommend talking to them about their editing process and how they conduct their shoots, a professional photographer would be able to describe their process to you in vivid detail.
Location
Discussing and establishing the location is important, this will directly affect the time spent photographing, travelling and setting up for the shoot. This could also influence the equipment that the photographer will need to complete the project.
Equipment
Communicate with your preferred supplier to ensure that they have access to all of the equipment needed to conduct and conclude the project.
Your Role and Responsibilities
There are a few responsibilities that fall on you to ensure that the shoot day runs smoothly and the content is as good as possible.
Pre-Planning
Ensure that all of your employees are fully briefed on how the photoshoot will work, how they need to be dressed and at what time they need to report for their session.
This ensures that all of the headshots are taken in a timely fashion with no need for any additional time to be allocated.
Prep your Environment
It is important to decide beforehand where the photos will be taken, be it in a boardroom or in a dormant office.
Check with your preferred supplier on what their space requirements are and if they require power outputs.
Thereafter carefully pick your designated area and prep it for the photographer's use.
This could include:
Removing additional furniture
Ensuring the environment is clean and easy to navigate
Ensure that there are sufficient power outlets for your photographer's use
On the Day
It might prove useful to create and distribute a shooting schedule to both the photographer and your employees.
Ensure that your employees follow the schedule on the day.
This will ensure that the shoot runs smoothly.
Furthermore, it would be considered human to provide your preferred supplier with food and refreshments especially if they are booked for a full day.
These guidelines will ensure that your project runs efficiently and on time while also ensuring that all parties involved are happy with the outcome.
Supplier Role and Responsibilities
The responsibility surrounding equipment is entirely that of your supplier.
If they need to collect or rent equipment such arrangements should be made before the time of your booked shoot day.
On the day the supplier should arrive at your premises 60 to 45 minutes before the shoot is scheduled to start, this will allow them ample time to set up their equipment, test their lighting and ensure that everything is ready for the proposed schedule.
Engaging With Your Supplier
When contacting a supplier there are a few things that are of importance to discuss these may prevent any uncertainties between yourself and your supplier and ensure that all parties involved are satisfied with the proceedings and the outcome.
Contract
Drafting a contract that covers the needs and agreements of both parties is very important. This will ensure that you, your company and your preferred supplier are satisfied with the service provided as well as the end product.
Payment Terms
Establishing your supplier's preferred payment terms will ensure that the service provided commences without any problems.
Turn around Time
Discussing the turnaround time with your supplier, allows you to plan ahead and not have unrealistic expectations for when you will be receiving your end product.
Project Process
Having a clear understanding of how the day of the project will be conducted allows you to plan ahead and communicate the proceedings to your staff.
In this meeting, you and your supplier will discuss the day's proceedings and ensure that they have everything they need to start
Next, you need to communicate the shooting schedule with your team to ensure that all of your team members understand what is expected of them.
As mentioned site visits before the date of the project will ensure that your preferred supplier is fully informed of the environment that they will be working in and how they can prepare themselves to ensure that the project runs smoothly.
Project Time Frame
On the day:
Once the photographer has completed their set-up process and has indicated that they are ready to begin you can expect it to take between 30 and 45 minutes per employee per session.
The time frame of the day depends on the number of employees you are aiming to have photographed.
After the shoot Day:
Once the shoot day has been completed, you could expect to see a draft image of each employee within 7 working days of the shoot date. Depending on your prefered supplier, your contractual agreement and the number of employees photographed you can expect your photos to be completed within 14 to 21 working days after the shoot date.
Your supplier may communicate a different timeline to you, these figures are based on the average industry turnaround time.
We are a leading video production company in Johannesburg and have one of the top learner management systems in South Africa. We specialise in Video Production, Photography, Graphic Design, eLearning Development, Web Design, Animation and Creative Consultation. | info@oliverkarstel.co.za | www.oliverkarstel.co.za | IG.com/oliverkarstel