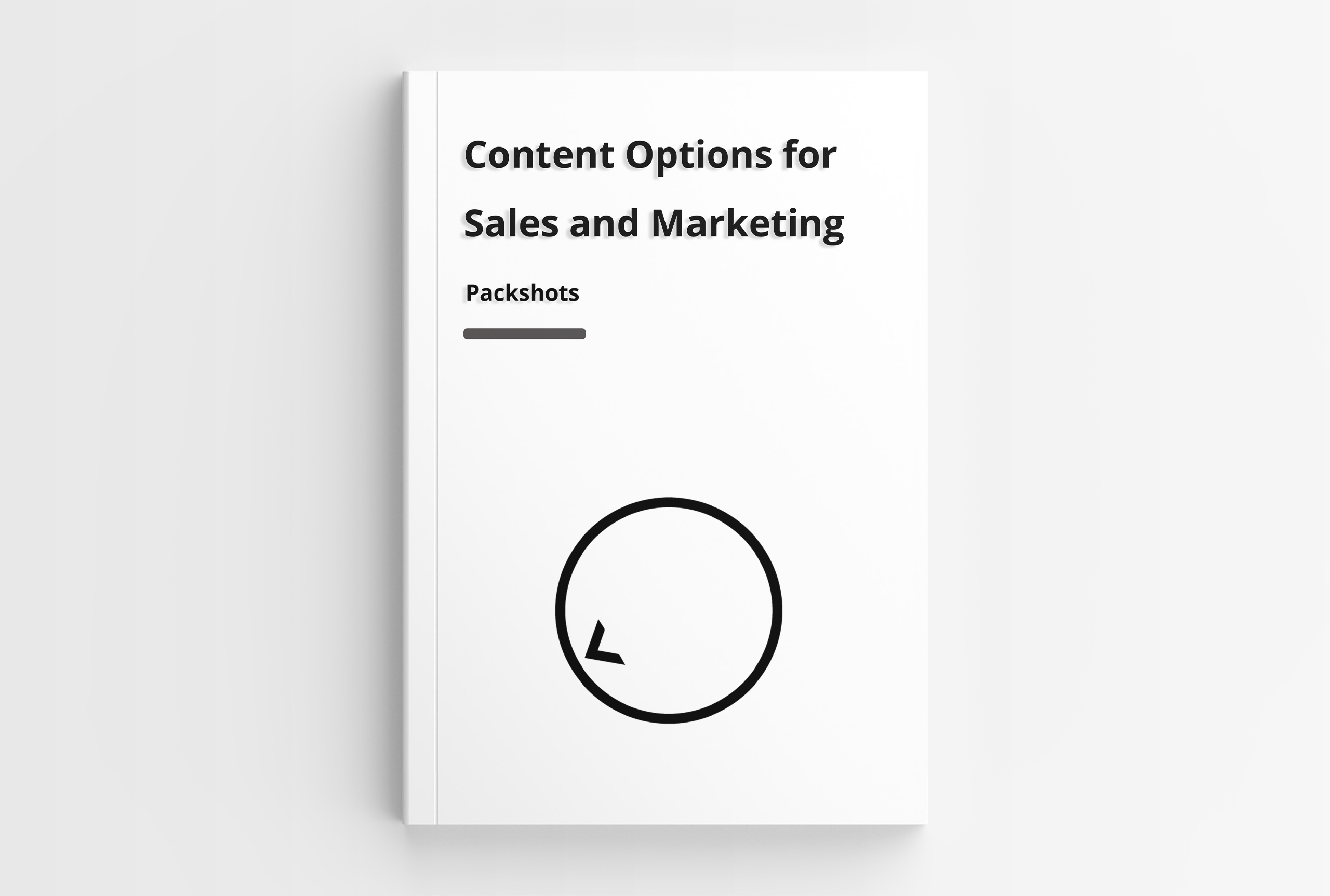 Content Options: Packshot Photography
Packshots are the most standard and straightforward of the product photography mediums.
Packshots are a very basic depiction of your product as is, however, these images are correctly lit through planned lighting and shot in front of basic backdrops to provide you with a clear depiction of your product.
These types of images focus primarily on the packaging, labelling and branding of products.
Packshots are widely used on e-commerce platforms and brochures but can also be used on social media platforms, their clean format can provide for aesthetic social marketing.
Packshots are also a useful tool used by sales staff to entice consumers or buyers to purchase your goods through the use of visual elements.
Why and How do we use Packshot Photography:
Packshots are among the easiest product photographs to produce.
When packshots are produced a supplier would traditionally make use of a set lighting configuration. By using a singular setup the supplier is able to produce content that is consistent in its look, feel and lighting.
This allows the supplier to produce high volumes of packshots in a single session.
Making packshot photography not only the easiest but the most effective for bulk product photographs.
Because of the clean and straightforward look and feel produced by packshots, they are perfectly suited for eCommerce use, providing prospective buyers with a clear indication of what the product and its packaging may look like.
Packshots can also be used by your sales and marketing staff as a way to introduce the product to consumers.
They are very popular with uses found in brochures, social media content, order forms, sales pitches and product pitches.
Having a visual representation of a product aims to bolster the marketing and sales drive behind your products.
Producing Packshots:
Packshots, as mentioned, are very basic in nature however does not mean that producing them is as straightforward as aiming a camera at your product and clicking the button.
Below will be two examples, one for low-budget projects and one for projects with slightly higher budgets:
Low Budget:
Packshots do not make use of things such as props and models, therefore the main focus of each image is the product.
When it comes to lower budget packshot photography you may find that the method remains the same however the difference between low and high budget packshots can be found in the equipment used.
Lower end packshots may be taken with fewer lights or in a basic lightbox with a singular backdrop.
The backdrops are traditionally white.
These photographs aren't necessarily bad but they are limiting in terms of how the product is presented.
High Budget:
Higher budget packshot projects are similar to low budget options in the sense that as mentioned the process is more or less the same.
With high-end options, your supplier may opt to use more equipment such as a product table with dedicated lighting configurations which will ensure that all of your products are lit exceptionally and consistently.
The supplier may also opt to use varying backdrops some even including patterned or textured styles as opposed to the plain white.
They could also make use of more creative lighting methods and techniques to create further attraction and depth within your product images.
Lastly, a big difference between low budget and high budget packshots would be the editing of the images, with a higher budget your supplier may offer in-depth photo retouching to ensure that it is depicted at its best.
Finding a Supplier for your Project:
The budget has little relevance when working with incompetent suppliers, product photography like all forms of photography is a specialised skill thus finding an adequate supply for your packshot project is very important.
Here are some guidelines to aid you in your search:
Research:
When searching for service providers we tend to be lazy, normally going with the first option we find on our google search or enlisting a friend of a friend.
We've found that it is best to do a bit of research on suppliers in your area. Once you've done your research compile a shortlist of three potential suppliers.
Portfolio:
People are too quick to refer creatives, failing to see the difference between well carried out photography and that of their friend who got a camera a week ago.
It is important that you work through the portfolios of the photographers on your list.
While working through their portfolios you need to answer two questions:
1- Are they able to take clear and concise images?
2- Does their style align with your vision?
If the answer is no to either of these questions, chances are you will not be happy with the quality of content produced.
Interview:
Setting up an interview with your photographer could yield great results.
It is important to discuss your vision and concepts with them beforehand to see if would be a good fit.
Furthermore, we would recommend talking to them about their editing process and how they conduct their shoots, a professional photographer would be able to describe their process to you in vivid detail.
Location:
Discussing and establishing the location for the project is important, many suppliers may prefer to work in their own dedicated studios.
If however, your supplier is willing to travel to your facilities for the photographs, it would be wise to find out if the travelling may incur further costs.
Equipment:
Communicate with your preferred supplier to ensure that they have access to all of the equipment needed to conduct and conclude the project.
Such equipment would include:
Lighting equipment
Backdrops
Product tent or table
Your Role and Responsibilities:
There are a few responsibilities that fall on you to ensure that the shoot day runs smoothly and the content produced is as good as possible.
Pre-Planning:
Prepare all of the agreed products and where necessary book a courier to deliver the products at least 2-4 working days prior to the shoot date.
Early shipping will enable your supplier to thoroughly plan his set-up as well as alleviate problems such as shipping delays etc.
Prep Your Environment:
Prepping your environment is only applicable when your supplier will be conducting the shoot day at your facility.
Start your prepping by deciding beforehand where the photos will be taken, thereafter communicate with your supplier regarding their requirements such as space, outlets, etc.
After all of the above has been established ensure that the area and its surroundings are clean, safe and easy to navigate.
On the Day:
This part is only applicable when the supplier will be conducting the shoot at your facility.
Ensure that all of your products are clean, within reach and ready to photograph.
It might prove useful to create a sort of distribution line of products so that the photographer can easily transition between products when shooting.
The supplier may need to adjust the lighting for products of different sizes.
When setting up the distribution line, pack products of similar sizes together to help speed up the shooting process.
Furthermore, it would be considered human to provide your preferred supplier with food and refreshments especially if they are booked for a full day.
These guidelines will ensure that your project runs efficiently and on time while also ensuring that all parties involved are happy with the outcome.
Supplier Role and Responsibilities:
The responsibility surrounding equipment is entirely that of your supplier.
If they need to collect or rent equipment such arrangements should be made before the time of your booked shoot day.
On the day the supplier should arrive at your premises 60 to 45 minutes before the shoot is scheduled to start, this will allow them ample time to set up their equipment, test their lighting and ensure that everything is ready for the project.
Engaging with your Supplier:
When contacting a supplier there are a few things that are of importance to discuss these may prevent any uncertainties between yourself and your supplier and ensure that all parties involved are satisfied with the proceedings and the outcome.
Contract:
Drafting a contract that covers the needs and agreements of both parties is very important. This will ensure that you, your company and your preferred supplier are satisfied with the service provided as well as the end product.
Payment Terms:
Establishing your supplier's preferred payment terms will ensure that the service provided commences without any problems.
Turn around time:
Discussing the turnaround time with your supplier, allows you to plan ahead and not have unrealistic expectations for when you will be receiving your end product.
Project Process:
Having a clear understanding of how the day of the project will be conducted allows you to plan ahead and make arrangements with your suppliers to ensure that no problems arise on the day of the project.
In this meeting, you and your supplier will discuss the day's proceedings and ensure that they have everything they need to start
Providing your supplier with products and their accompanying documentation before the shoot day will ensure that they capture your product in a way that is fitting.
Make sure to provide your supplier with your companies brand guideline so that the content produced is in line with your company's corporate identity
Project Time Frame:
On the Day:
Once the photographer has completed their set-up process and has indicated that they are ready to begin you can expect it to take between 15 and 20 minutes per product.
The time frame of the day depends on the number of products you are aiming to have photographed.
After the Shoot Day:
Once the shoot day has been completed, you could expect to see a draft image of each product within 7 working days of the shoot date.
Depending on your prefered supplier, your contractual agreement and the number of products photographed you can expect your photos to be completed within 14 to 21 working days after the shoot date.
Your supplier may communicate a different timeline to you, these figures are based on the average industry turnaround time.
We are a leading video production company in Johannesburg and have one of the top learner management systems in South Africa. We specialise in Video Production, Photography, Graphic Design, eLearning Development, Web Design, Animation and Creative Consultation. | info@oliverkarstel.co.za | www.oliverkarstel.co.za | IG.com/oliverkarstel