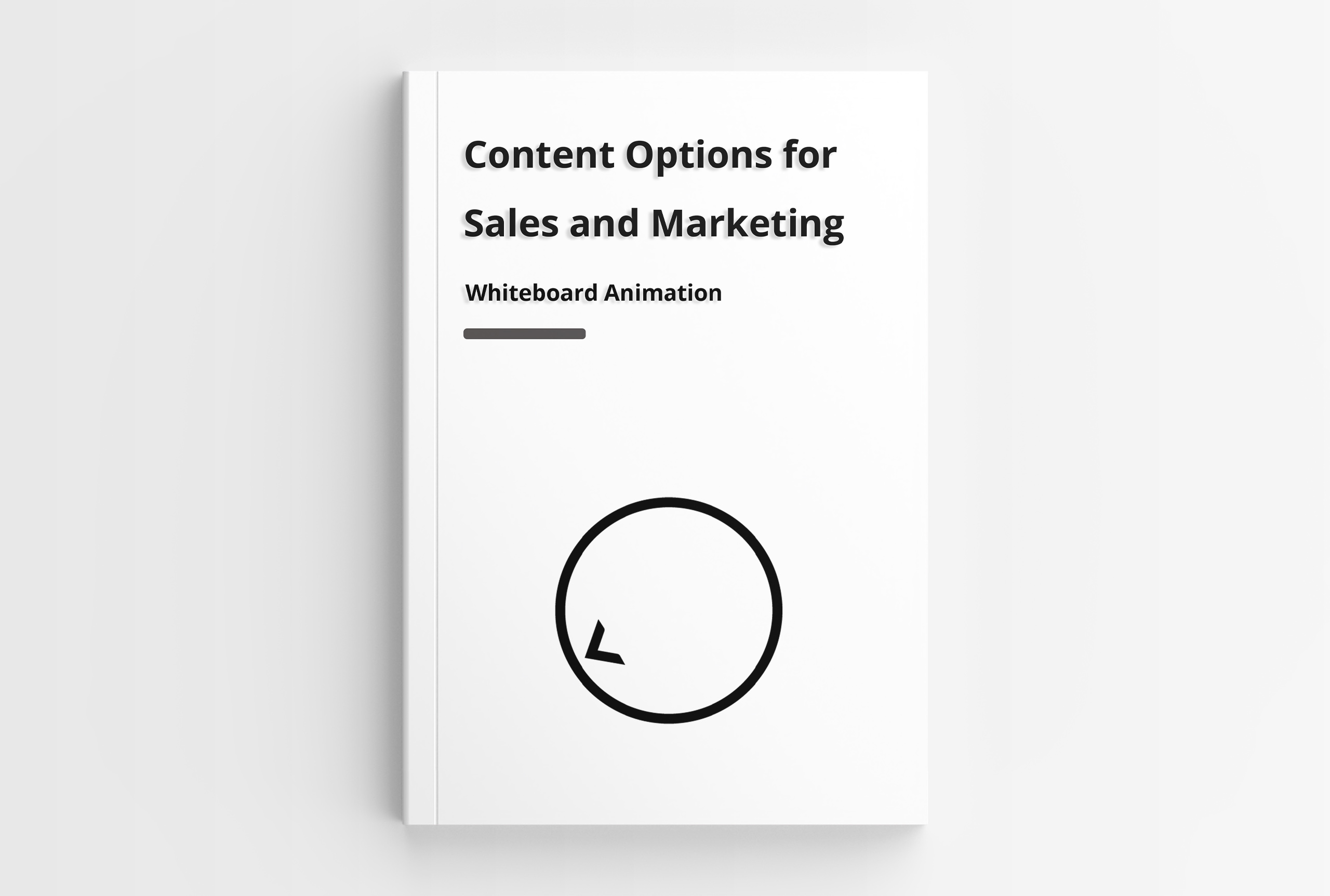 Content Options: Whiteboard Animation
Whiteboard animation is one of the younger forms of 2D animation and animated video production, finding its birth and use within the corporate world around 2007. 
Much like the name suggests whiteboard animation mimics diagrams and illustrations being drawn on a whiteboard much like people have done in meetings for years.
Whiteboard animation depicts images being drawn by a hand, pen or other methods which is then accompanied by a pre-recorded voice-over to explain complex topics in a way that is engaging, fun and digestible.
These animated video productions have traditionally been used by marketing and sales staff to communicate ideas and concepts to fellow employees, investors and consumers alike!
How and why do we use Whiteboard animation:
Humans are visual learners, preferring animated illustrations over the more traditional methods of explaining such as talking head videos.
Animation is no longer just an entertainment method for children but rather a powerful tool that allows us to dissect and communicate complex topics to individuals through the use of fun, engaging and entertaining animated segments.
Whiteboard animation technology has progressed so much from its inception, originally these animations consisted of sped-up footage of an animator drawing illustrations on a whiteboard.
The footage is then stitched together with an accompanying voice-over to produce dynamic video content.
But in recent years with access to software such as Vyond, we are able to produce these animations in record time through software alone. Making it a widely used and quick to produce medium.
Sales and Marketing staff could use these videos in a variety of ways, such as:
Explaining concepts and procedures to staff, investors and clients
To answer frequently asked questions
To train individuals
To market and sell products
These videos may be used on websites and social platforms to engage with consumers and company-related online communities.
Sales staff may opt to use these videos in sales meetings to ensure that services, products and procedures are presented to potential clients and investors in a way that is clear and engaging.
When you opt to educate your consumers on products and services you may find that they are more confident in purchasing or making use of your products and services.
Producing Whiteboard Animations:
As mentioned above, whiteboard animations can be produced quickly through the use of 2D specific animation technology.
There are however differences between low budget and high budget whiteboard animation projects, we'll list an example of each below:
Low-budget:
Lower budget whiteboard animations are by no means inferior to higher-end whiteboard animation projects.
The key differences can be found in the time spent producing the content, how complex the topic is and how it is visualized and communicated to consumers.
Lower budget whiteboard animations would be shorter videos explaining topics that are not too complex through the use of a limited amount of animations and voice over.
The turnaround time for these videos may be a bit longer with suppliers opting to prioritize higher budget projects over their lower budget counterparts.
High-budget:
High-budget whiteboard animation projects open up a few more options when it comes to production and production time.
For example, in higher-end projects, you can present more complex topics to suppliers who may opt to work alongside subject matter experts to visualise the concept or topic through more animated slides breaking the subject matter down into digestible and understandable content.
These projects may also be subject to faster turnaround times as well as the use of more fleshed out visual representations.
Conclusion
Whiteboard Animation is the best way to communicate a variety of topics both internally and externally.
From training staff to educating customers and advertising, It is a worthwhile addition to any company's sales and marketing force.
Contact our team to learn more about our custom Whiteboard Animation and animated video production.
We are a Creative Content Production Agency and one of the top animation companies in Johannesburg specialising in Video Production, Photography, Graphic Design, eLearning Development, Web Design, Animation and Creative Consultation. | info@oliverkarstel.co.za | www.oliverkarstel.co.za | IG.com/oliverkarstel