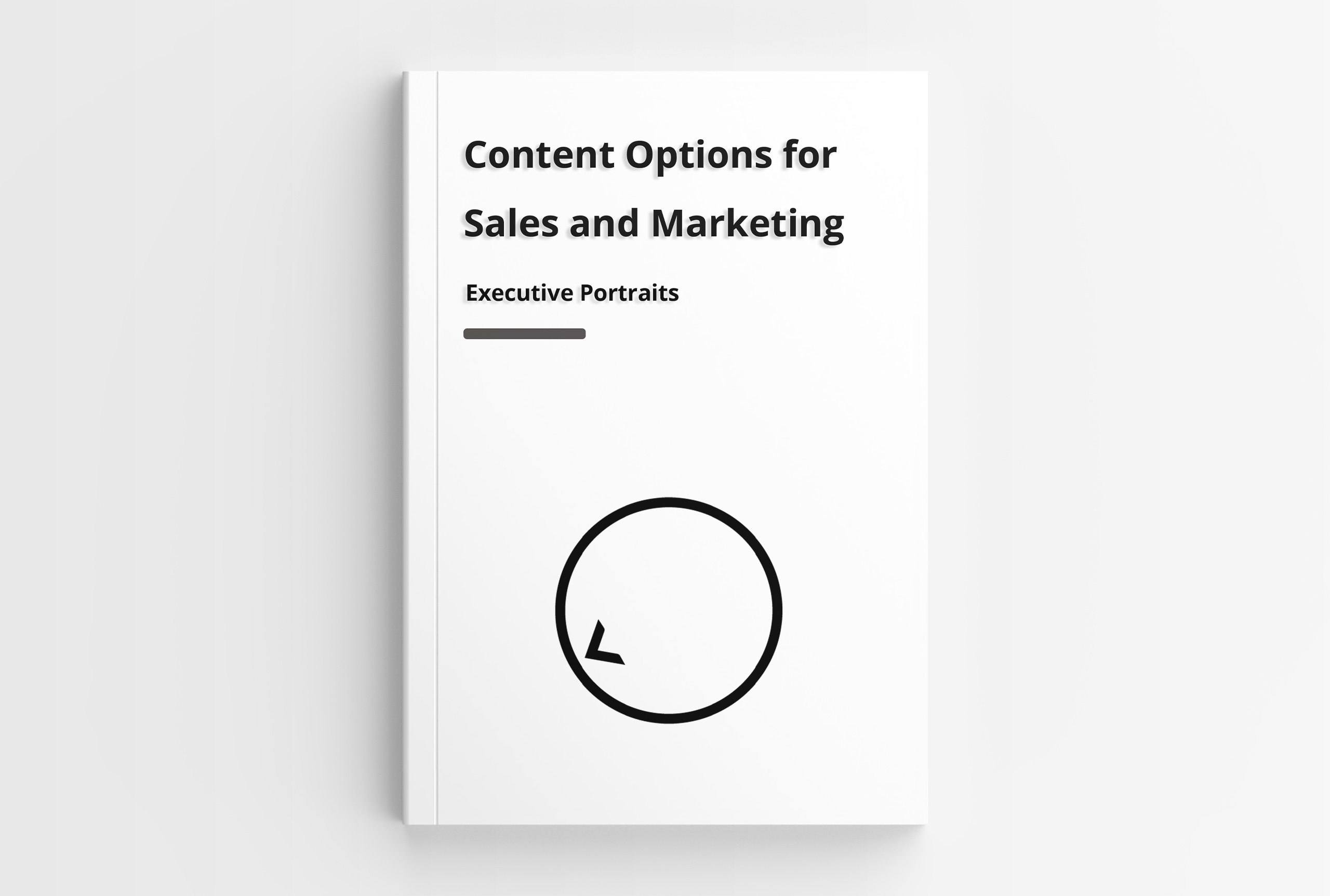 Content Options: Executive Portraits
Executive portraits are portrait style photographs aimed at capturing executive-level staff in a way and environment that properly align with their values, and communicate their interests as well as to some degree, who they are as a person.
These portraits traditionally capture an image from the waistline up but could feature a full length or a head and shoulder image as well.
Executive portraits are normally taken in an environment where the executive staff member feels comfortable. These environments could be something like a board room, in front of a head office, in their office or even at home where they feel most comfortable.
These portraits need to effectively communicate the executive staff member's core values and goals. These images are the first point of contact customers and investors would have with your executive staff.
These need to be striking and clear as well as incorporate the above-mentioned goals and values.
Why and How do we use Executive Portraits:
Executive portraits are different from corporate headshots and for good reason.
Executive staff should be easily identifiable from the rest of your staff.
The clean-cut backgrounds found in normal corporate headshots don't leave much room for creativity, whereas with executive portraits you are able to capture executive staff in settings and surroundings that are conducive to the message they would like to communicate to your consumers.
These portraits may have different backgrounds but they still communicate professionalism with a slight dash of humility and care.
These photographs would be used for professional social platforms such as LinkedIn or zoom, your company website, internal documents and monthly reports.
Producing Executive Portraits:
When it comes to producing executive portraits there are a few options you can look at depending on the budget allocated for the project.
Below will be two examples, one for low-budget projects and one for projects with slightly higher budgets:
Low Budget Executive Portraits:
You might be surprised to know that executive portraits can be achieved with relevant success even on tight budgets.
These portraits wouldn't necessarily have the same look and feel as their higher budget counterpart but they should still be striking images depending on your preferred supplier.
Lower budget executive portraits would realistically be natural light photographs, which means that no camera lighting equipment would be used.
This affects the environments in which you would be able to have your portraits taken in.
This is because there has to be sufficient lighting within a room to produce ample ambient lighting to ensure that you (the subject) are appropriately lit and visible with no apparent fluctuations in light.
Ideal locations would include outdoors areas, an office with large windows and ample light, or an off-site location that still offers sufficient lighting.
Another aspect that may be affected by the lower budget variant would be the editing process of the photo, things like skin blemishes could be left in the photos, they may also not be cleaned up meaning certain aspects of the photograph may not be removed through the use of photo editing software.
High Budget Executive Portraits:
High budget executive portraits breed a lot more room for creativity.
With a higher budget, you are able to achieve a cleaner and more composed look.
The budget would allow for photographic lighting equipment which will enable the photographer to capture your portraits in a variety of different settings.
The lighting also allows for even lighting on the subject, this can make a phenomenal and very noticeable difference in your portraits.
Furthermore larger packages would include also include higher-level editing ensuring that the skin is free of blemishes, the environment is free of distracting elements and ensuring that the colour profile is appealing and eye-catching.
Enlisting a service provider with a higher budget could also mean that the photographer is more experienced, this can lead to better posing as well as a more relaxed and effective way of conducting your session.
How to Find a Suitable Supplier for your Project:
Having a big or small budget has little relevance when you don't have the right supplier, choosing the right supplier for your company and your needs requires a few things:
Research:
You shouldn't pick the first photographer you find on google, it's important to research at least three different suppliers. You need to make sure that your supplier has a proven track record and credible references.
Portfolio:
Credible references are great but the proof will forever remain in the pudding.
Going through a photographer's portfolio will tell you two things:
1- Can they take striking photos?
2- Does their style align with your vision?
If the answer is no to either of these questions, chances are you will not be happy with the quality of content produced.
Interview:
Setting up an interview with your photographer could yield great results.
It is important to discuss your vision and concepts with them beforehand to see if would be a good fit. Furthermore, we would recommend talking to them about their editing process and how they conduct their shoots, a professional photographer would be able to describe their process to you in vivid detail.
Location:
Discussing and establishing the location is important, this will directly affect the time spent photographing, travelling and setting up for the shoot. This could also influence the equipment that the photographer will need to complete the project.
Equipment:
Communicate with your preferred supplier to ensure that they have access to all of the equipment needed to conduct and conclude the project.
Your Role and Responsibilities:
There are a few responsibilities that fall on you to ensure that the shoot day runs smoothly and the content is as good as possible.
Pre-Planning:
Ensure that all of your employees are fully briefed on how the photoshoot will work, how they need to be dressed and at what time they need to report for their session.
This ensures that all of the headshots are taken in a timely fashion with no need for any additional time to be allocated.
Prep Your Environment:
It is important to decide beforehand where the photos will be taken, be it in a boardroom or in a dormant office.
Check with your preferred supplier on what their space requirements are and if they require power outputs.
Thereafter carefully pick your designated area and prep it for the photographer's use.
This could include:
Removing additional furniture
Ensuring the environment is clean and easy to navigate
Ensure that there are sufficient power outlets for your photographer's use
On the Day:
It might prove useful to create and distribute a shooting schedule to both the photographer and your employees.
Ensure that your employees follow the schedule on the day.
This will ensure that the shoot runs smoothly.
Furthermore, it would be considered human to provide your preferred supplier with food and refreshments especially if they are booked for a full day.
These guidelines will ensure that your project runs efficiently and on time while also ensuring that all parties involved are happy with the outcome.
Supplier Role and Responsibilities:
The responsibility surrounding equipment is entirely that of your supplier.
If they need to collect or rent equipment such arrangements should be made before the time of your booked shoot day.
On the day the supplier should arrive at your premises 60 to 45 minutes before the shoot is scheduled to start, this will allow them ample time to set up their equipment, test their lighting and ensure that everything is ready for the proposed schedule.
Engaging With Your Supplier:
When contacting a supplier there are a few things that are of importance to discuss these may prevent any uncertainties between yourself and your supplier and ensure that all parties involved are satisfied with the proceedings and the outcome.
Contract:
Drafting a contract that covers the needs and agreements of both parties is very important. This will ensure that you, your company and your preferred supplier are satisfied with the service provided as well as the end product.
Payment Terms:
Establishing your supplier's preferred payment terms will ensure that the service provided commences without any problems.
Turn Around Time:
Discussing the turnaround time with your supplier, allows you to plan ahead and not have unrealistic expectations for when you will be receiving your end product.
Project Process:
Having a clear understanding of how the day of the project will be conducted allows you to plan ahead and communicate the proceedings to your staff.
Kick-off Meeting:
In this meeting, you and your supplier will discuss the day's proceedings and ensure that they have everything they need to start
Communication With Team:
Next, you need to communicate the shooting schedule with your team to ensure that all of your team members understand what is expected of them.
Site Visits:
As mentioned site visits before the date of the project will ensure that your preferred supplier is fully informed of the environment that they will be working in and how they can prepare themselves to ensure that the project runs smoothly.
Project Time Frame:
On the Day:
Once the photographer has completed their set-up process and has indicated that they are ready to begin you can expect it to take between 30 and 45 minutes per employee per session.
The time frame of the day depends on the number of employees you are aiming to have photographed.
After the Shoot Day:
Once the shoot day has been completed, you could expect to see a draft image of each employee within 7 working days of the shoot date. Depending on your prefered supplier, your contractual agreement and the number of employees photographed you can expect your photos to be completed within 14 to 21 working days after the shoot date.
Your supplier may communicate a different timeline to you, these figures are based on the average industry turnaround time.
We are a leading video production company in Johannesburg and have one of the top learner management systems in South Africa. We specialise in Video Production, Photography, Graphic Design, eLearning Development, Web Design, Animation and Creative Consultation. | info@oliverkarstel.co.za | www.oliverkarstel.co.za | IG.com/oliverkarstel