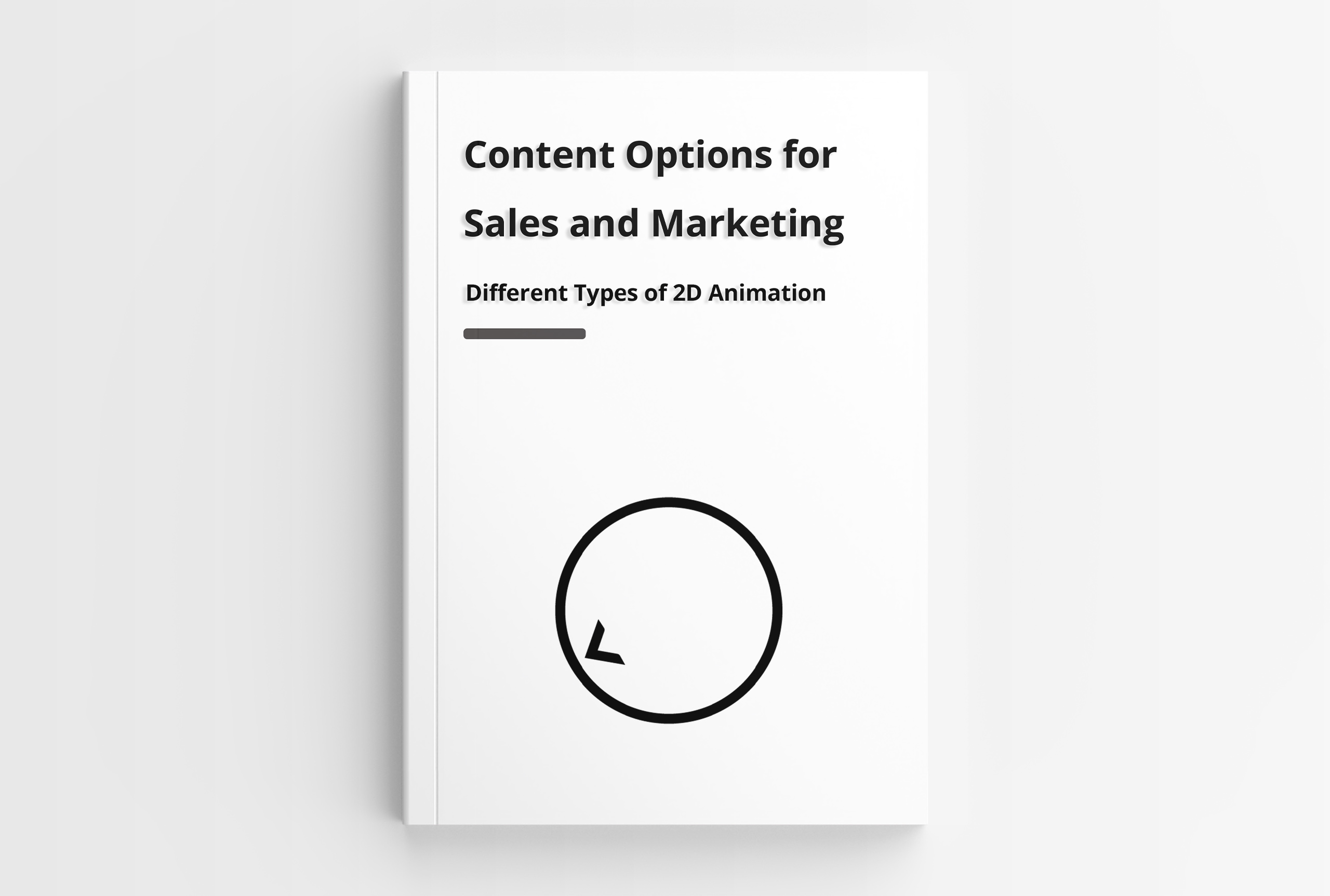 2D Animation Content Options
Animated video production and more specifically 2D Animation has been around since 1908 but only gained widespread popularity around the 1920s-1970s with companies like Disney and Warner Brothers being at the front line of Animated films and series.
It wasn't until the 1940s that 2D animation gained widespread use on television in the form of animated adverts.
Since then 2D animation has proven to be a powerful marketing tool both internally and externally.
What is 2D Animation?
It basically consists of a series of drawings that are drawn in a similar way and have slight differences from drawing to drawing.
These drawings are then played in rapid progression to simulate movement.
Modern animation doesn't require as many drawings and can be done digitally without much effort.
So what kinds of 2D animations does one get and how can you use them as sales and marketing tools:
Whiteboard Animation
Whiteboard videos are animations that make use of a hand or a pencil drawing in static animated characters or illustrations that are then explained to the viewer through the use of pre-recorded voice over.
These videos are somewhat basic and straightforward but they do however communicate in an engaging and effective manner to their consumers.
Whiteboard animations are also relatively cost-effective and can be produced in record time, making them a company favourite.
Your sales or marketing team could make use of whiteboard Animations to explain complex topics or services in an easy to digest and easy to retain manner.
Allowing your target market to make educated decisions around certain products or services that you may offer.
These animations could also be used to create FAQ (Frequently asked questions) videos, allowing you to save time when attempting to answer a customer's questions.

Character Animation

Character animation consists of bringing an animated character to life through the use of movement and voice over. Sometimes the animated character may be the one speaking but their actions may also be narrated.
These videos are very popular and often used by corporate companies because of how well character animations can convey a message to their intended target audience.
The audience is entertained and by the use of animation and even the most boring of topics could be communicated in a "fun" way through the animation.
Character animation can be used by your sales and marketing staff for various applications.
Character animation is regularly used for explainer videos, giving the viewer a broken down and digestible explanation of how certain products are used or how specific services are carried out.
They can also be used as marketing videos, introducing a company, service or product to a consumer through the use of animation may strike a deeper chord as opposed to the traditional marketing videos.
This is because animation is more visually stimulating with its use of movement and colour, they also have what is known as the "cuteness factor" which opens up the consumer's impulsion to listen and possibly buy.
Your sales and marketing staff would use these types of videos on your website, social platforms and even in pitch meetings because of their ability to effectively and easily communicate their messages to its target market.
Infographic Style Animation
Infographics consist of using multiple mediums to give static elements movement. This allows for intricate statistics and information to be communicated to it's the consumer in a way that is easier to understand and grasp.
These infographics are also more conducive to the rate of information retention because of their use of colour and movement.
These animations could be used by sales staff as a means to strengthen the communication of their sales figures during meetings and pitches, both internally and externally.
Marketing staff generally use these to communicate interesting statistics to customers and consumers allowing them to make more educated decisions when purchasing products or making use of services.
Typographic Animation
A typographic animation is a form of 2D animation that specifically focuses on typography, fonts and words. This form of animation is used to pull attention towards specific words, headings or sentences.
These words are given bigger emphasis due to their movement. There are many ways in which they can move or animate but it all comes down to placing focus on specific word related information.
Your sales staff may opt to use these within their digital pitches to draw the potential buyers' focus towards certain topics or pieces of information, allowing them to effectively direct the focus to the desired content.
Marketing staff would use these as promotional tools for sales, announcements, etc. on your company's various social platforms or on your website.
Stop Motion Animation
Stop motion animation is a specific style that makes use of objects that are manipulated frame by frame and then stitched together to simulate movement.
Traditionally this would be done with clay but any object can be used.
This is a fun way to market products or announcements in a way that is different and eye-catching.
Stop motion animation would be used mainly by marketing staff but could be used by sales staff to promote certain products, services or announcements that your company may have.
These videos would be used mainly on social platforms as well as your company's website.
Sketch Animation
Sketch animations are a form of animation in which complex topics or concepts can be communicated to consumers through sketches with simple motions.
This type of animation is very basic and mimics the style in which we use movement and gestures to communicate with others.
These animations can be produced with relative ease and are accessible to almost anyone.
This form of animation would mainly be utilized by sales staff within their sales pitches and client meetings to easily break down complex explanations so that the person that they are selling to can have a firm understanding of what is being presented with little effort.
Marketing staff may use these videos to relay a simple message to your social media audience, this ensures that your buyers and consumers are well educated which could lead to more sales.
Conclusion
2D Animation offers many forms in which sales and marketing can be driven, the animated videos are found to be extremely engaging and easy to digest which makes animated video content a strong contender in the realm of content options.
If you have any further questions regarding animated video production or require such services for yourself or your company, get in contact with one of our team members today.
We are a leading video production company in Johannesburg and have one of the top learner management systems in South Africa. We specialise in Video Production, Photography, Graphic Design, eLearning Development, Web Design, Animation and Creative Consultation. | info@oliverkarstel.co.za | www.oliverkarstel.co.za | IG.com/oliverkarstel